HRCT imaging of pulmonary fibrosis in CTD-ILDs
High-resolution computed tomography (HRCT) is the gold standard for accurate interstitial lung disease (ILD) diagnosis in connective tissue diseases (CTDs)1,2

Screening for CTD-ILD can have the dual benefits of identifying early-stage disease and more specifically identifying those at greatest risk for progression and functional decline6
THE RADIOLOGIST HAS A CENTRAL ROLE IN THE DIAGNOSIS OF CTD-ILDs IN COLLABORATION WITH A RHEUMATOLOGIST7
The clinical history of patients with CTDs can assist the radiologist in:8
Contributing to multidisciplinary team discussion

Interpreting radiological features on HRCT scans

Offering valuable information to make a differential diagnosis of suspected ILD 
Typical radiographic characteristics on HRCT indicative of fibrosis in CTD-ILDs include:12,13
traction bronchiectasis, with or without ground-glass opacities

Reticulations, with or without ground-glass opacities

Honeycombing, with or without ground-glass opacities
Background lexicon of HRCT patterns:
Usual interstitial pneumonia (UIP) is characterized by a less homogenous radiographic pattern, relative alteration of lung architecture, variable severity of fibrotic lesions, basilar-predominant honeycombing, and subpleural reticulation with traction bronchiectasis12,13
Non-specific interstitial pneumonia (NSIP) is characterized by a more homogenous radiographic pattern, relative preservation of lung architecture, and relatively symmetric subpleural ground-glass opacities with immediate subpleural sparing12,13
Lymphoid interstitial pneumonia (LIP) is characterized by scattered thin-walled cysts and ground-glass opacification12
Most SSc-ILD patients have a fibrotic NSIP pattern on HRCT, with a high proportion of ground-glass opacities, including presence of reticulation and traction bronchiectasis, although UIP pattern may be seen in a small proportion of patients.14,15
UIP is the most common HRCT pattern in RA-ILD, which is characterized by reticulation, honeycombing and traction bronchiectasis.16
Explore the role of HRCT in screening and diagnosing CTD-ILDs
ILD signs and symptoms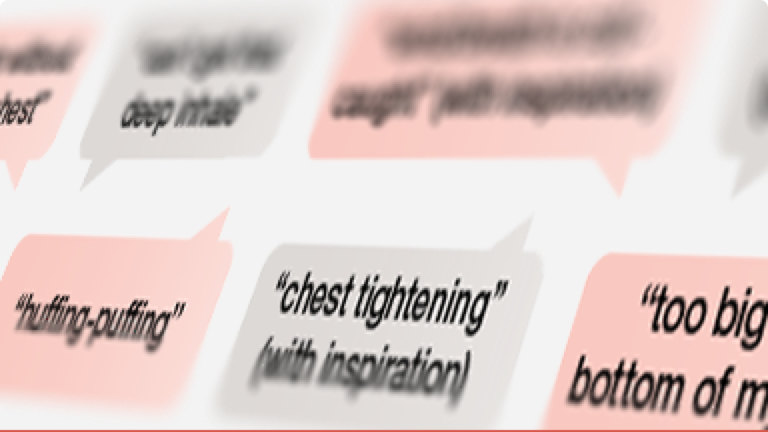 Screening for ILD in CTDs
 
Screening for CTD-ILD helps identify early-stage disease6
Maximize confidence in CTD-ILD diagnosis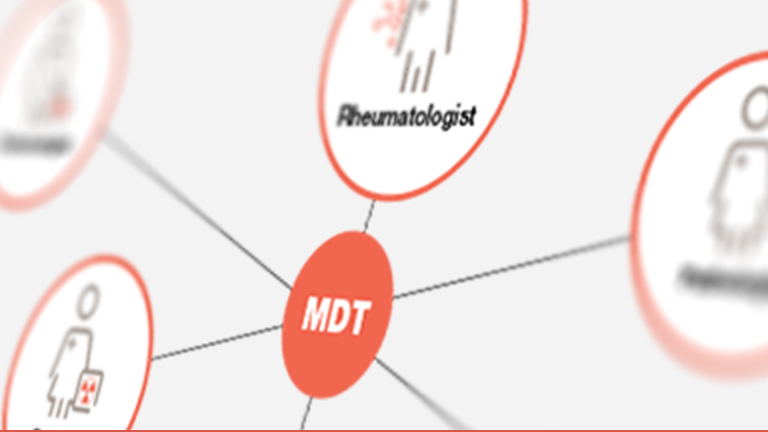 Diagnosis of CTD-ILDs
 
Any patient with known or suspected CTD should undergo workup including chest HRCT2
Identify ILD in the real world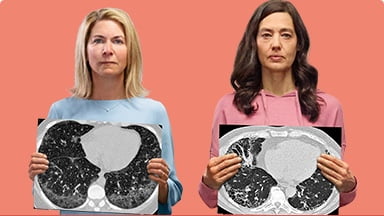 CTD-ILD patient cases for screening and diagnosis
Download the patient cases: medical histories of representative patients
Footnotes
CT, computed tomography; CTD, connective tissue disease; CTD-ILD, connective tissue disease-associated interstitial lung disease; HP, hypersensitivity pneumonitis; HRCT, high-resolution computed tomography; ILA, interstitial lung abnormalities; ILD, interstitial lung disease; LIP, lymphoid interstitial pneumonia; MCTD-ILD, mixed connective tissue disease-associated interstitial lung disease; NSIP, non-specific interstitial pneumonia; PFT, pulmonary function test; RA-ILD, rheumatoid arthritis-associated interstitial lung disease; SSc, systemic sclerosis; SSc-ILD, systemic sclerosis-associated interstitial lung disease; UIP, usual interstitial pneumonia.
Geerts S, Wuyts W, de Langhe E, et al. Connective tissue disease associated interstitial pneumonia: a challenge for both rheumatologists and pulmonologists. Sarcoidosis Vasc Dif. 2017;34:326–335.

Wallace B, Vummidi D, Khanna D. Management of connective tissue diseases associated interstitial lung disease: a review of the published literature. Curr Opin Rheumatol. 2016;28(3):236–245.

Wells AU, Brown KK, Flaherty KR, et al. What's in a name? That which we call IPF, by any other name would act the same. Eur Respir J. 2018;51(5):1800692. 

Gulati M. Diagnostic assessment of patients with interstitial lung disease. Prim Care Respir J. 2011;20:120–127.

Greiffo FR, Eickelberg O, Fernandez IE. Systems medicine advances in interstitial lung disease. Eur Respir Rev. 2017;26:170021.

Fischer A, Strek ME, Cotton V, et al. Proceedings of the American College of Rheumatology/Association of Physicians of Great Britain and Ireland Connective Tissue Disease–Associated Interstitial Lung Disease Summit: a multidisciplinary approach to address challenges and opportunities. Arthritis Rheumatol. 2019;71(2):182–195.

De Lorenzis E, Bosello SL, Varone F, et al. Multidisciplinary evaluation of interstitial lung diseases: new opportunities linked to rheumatologist involvement. Diagnostics (Basel). 2020;10(9):664. 

Chung J, Goldin J. Interpretation of HRCT scans in the diagnosis of IPF: improving communication between pulmonologists and radiologists. Lung. 2018;196(5):561–567.

Sverzellati N, Odone A, Silva M, et al. Structured reporting for fibrosing lung disease: a model shared by radiologist and pulmonologist. Radiol Med. 2018;123(4):245–253.

Irion KL, Souza Jr AS, Marchiori E, da Silveira Dalla-Bona JP, Hochhegger B. Assessment of pulmonologists' receptivity to a structured radiology report for interstitial lung disease. J Bras Pneumol. 2020;46(5):e20200164.

Berkowitz EA, Bernheim A, Little BP. Introducing ILD-RADS: a pilot study of an interstitial lung disease standardized reporting template. J Am Coll Radiol. 2019;16(9 Pt A):1169–1172.

Esposito AJ, Chu SG, Madan R, et al. Thoracic manifestations of rheumatoid arthritis. Clin Chest Med. 2019;40(3):545–560. 

Denton CP, Wells AU, Coghlan JG. Major lung complications of systemic sclerosis. Nat Rev Rheumatol. 2018;14:511–527.

Cottin V, Hirani N, Hotchkin D, et al. Presentation, diagnosis and clinical course of the spectrum of progressive-fibrosing interstitial lung diseases. Eur Respir Rev. 2018;27(150):180076.

Perelas A, Silver RM, Arrossi AV, et al. Systemic sclerosis-associated interstitial lung disease. Lancet Respir Med. 2020;8(3):304–320.

Iqbal K, Kelly C. Treatment of rheumatoid arthritis-associated interstitial lung disease: a perspective review. Ther Adv Musculoskelet Dis. 2015;7(6):247–267.

Dawson JK, Fewins HE, Desmond J, et al. Predictors of progression of HRCT diagnosed fibrosing alveolitis in patients with rheumatoid arthritis. Ann Rheum Dis. 2002;61:517–521.

Kawano-Dourado L, Doyle TJ, Bonfiglioli K, et al. Baseline characteristics and progression of a spectrum of interstitial lung abnormalities and disease in rheumatoid arthritis. Chest. 2020:S0012-3692(20)31412-4. doi: 10.1016/j.chest.2020.04.061.

Zamora-Legoff JA, Krause ML, Crowson CS, et al. Progressive decline of lung function in rheumatoid arthritis associated interstitial lung disease. Arthritis Rheumatol. 2017;69(3):542–549. 

Yamakawa H, Sato S, Tsumiyama E, et al. Predictive factors of mortality in rheumatoid arthritis-associated interstitial lung disease analysed by modified HRCT classification of idiopathic pulmonary fibrosis according to the 2018 ATS/ERS/JRS/ALAT criteria. J Thorac Dis. 2019;11(12):5247–5257.

Hoffmann-Vold AM, Fretheim H, Halse AK, et al. Tracking impact of interstitial lung disease in systemic sclerosis in a complete nationwide cohort. Am J Respir Crit Care Med. 2019;200:1258–1266. 
lifewithpulmonaryfibrosis.com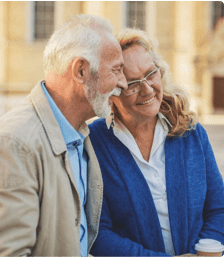 Helping patients and their loved ones to learn more about their condition.
morethanscleroderma.com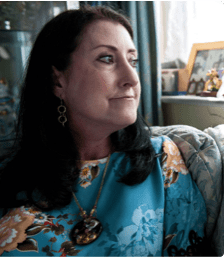 Providing information and resources to help support and guide patients.