Suspect pulmonary fibrosis
—a common threat across a wide range of interstitial lung diseases (ILDs), including connective tissue disease-associated interstitial lung diseases (CTD-ILDs). Pulmonary fibrosis can become a key driver of irreversible harm and early mortality, and calls for urgent identification and intervention.2–5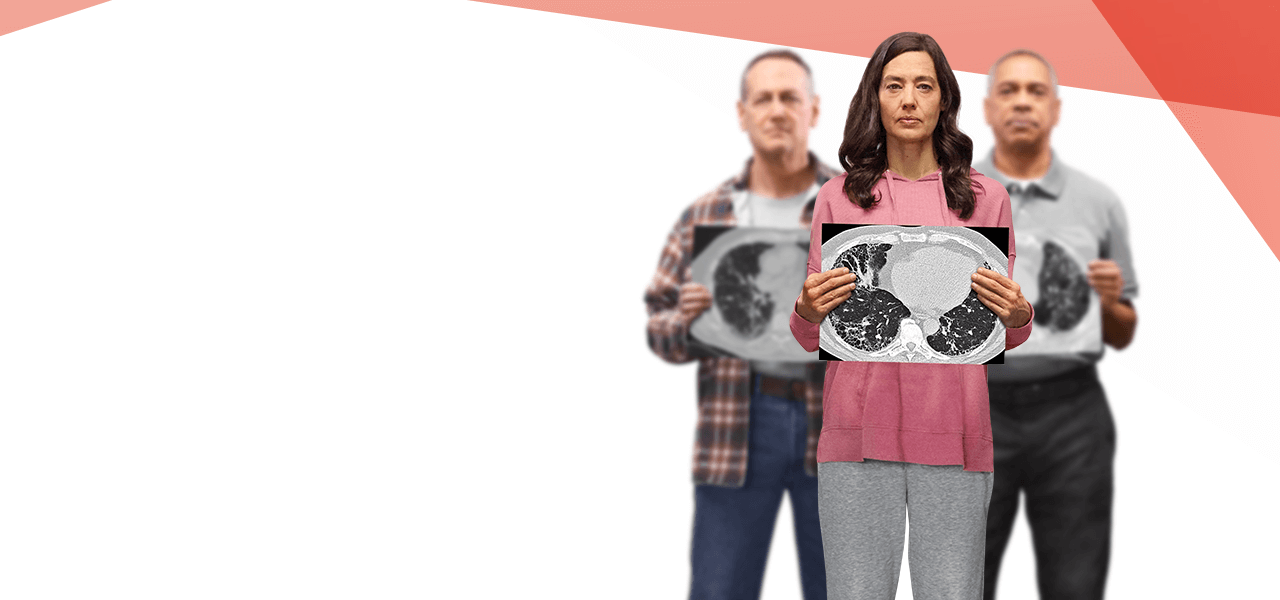 DISCOVER THE TRUE IMPACT OF FIBROTIC ILDs
Maximize confidence in ILD diagnosis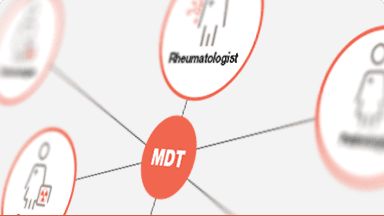 Diagnosis of ILD
For at-risk patients, HRCT should be evaluated at the first suspicion of fibrotic ILD involvement.
2,6–9
Inform your management decisions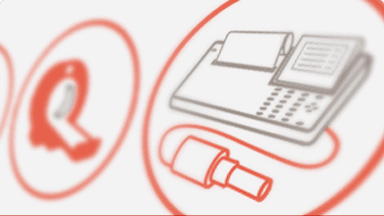 Early and regular monitoring
Time is of the essence when progressive fibrosing ILD is suspected.
1
Why is pulmonary fibrosis a critical threat?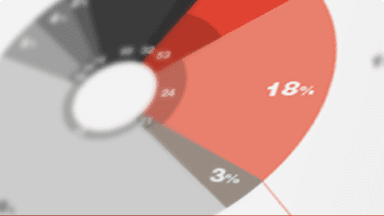 Critical threat of fibrotic ILDs
Pulmonary fibrosis is a critical threat across a broad range of ILDs.
2

–

5
ILD signs and symptoms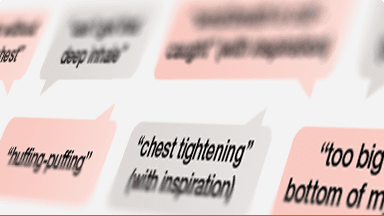 Initial evaluation for ILDs
Identifying pulmonary fibrosis early may improve burden of disease.
1,10–12
HRCT, the gold standard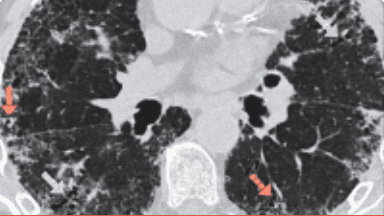 HRCT imaging of pulmonary fibrosis
High-resolution computed tomography is essential for accurate diagnoses of fibrotic ILDs.
13
Explore intervention options for your ILD patients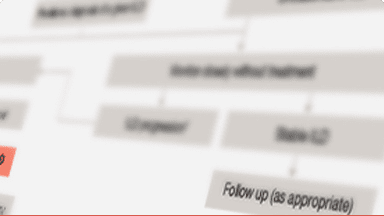 Interventions for ILDs
Early treatment is essential in IPF and could positively impact progression
14–16
Learn how best to break bad news to your patients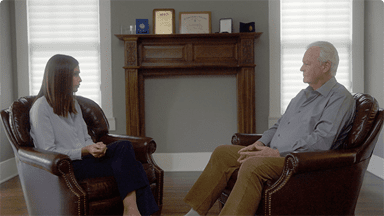 SPIKES model: breaking bad news to your patients
Professor Walter Baile takes us through the SPIKES mode on how to structure difficult conversations
Impact of acute exacerbation of ILD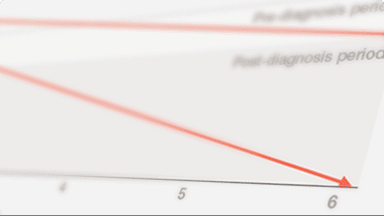 Acute exacerbation of ILD
A threat that could strike at any time.
17–21
Identify ILD in the real world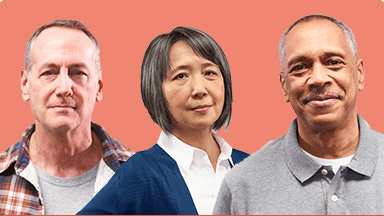 ILD patient cases for evaluation and diagnosis
Download our patient cases: medical histories of representative patients.
Footnotes
CTD-ILD, connective tissue disease-associated interstitial lung disease; HRCT, high-resolution computed tomography; ILD, interstitial lung disease; IPF, idiopathic pulmonary fibrosis.
Cottin V, Hirani N, Hotchkin D, et al. Presentation, diagnosis and clinical course of the spectrum of progressive-fibrosing interstitial lung diseases. Eur Respir Rev. 2018;27(150):180076. 

Flaherty KR, Brown KK, Wells AU, et al. Design of the PF-ILD trial: A double-blind, randomised, placebo-controlled phase III trial of nintedanib in patients with progressive fibrosing interstitial lung disease. BMJ Open Resp Res. 2017;4(1):e000212.

Patterson KC, Strek ME. Pulmonary fibrosis in sarcoidosis. Clinical features and outcomes. Ann Am Thorac Soc. 2013;10(4):362-370.

Caban JJ, Yao J, Bagci U, Mollura DJ. Monitoring pulmonary fibrosis by fusing clinical, physiological, and computed tomography features. Conf Proc IEEE Eng Med Biol Soc. 2011;6216-6219.

Wells AU, Brown KK, Flaherty KR, Kolb M, Thannickal VJ, on behalf of the IPF Consensus Working Group. Eur Resp J. 2018;51:1800692.

Theodore AC, Tseng C-H, Li N, Elashoff RM, Tashkin DP. Correlation of cough with disease activity and treatment with cyclophosphamide in scleroderma interstitial lung disease: findings from the Scleroderma Lung Study. Chest. 2012;142(3):614–621.

Hoffmann-Vold AM, Fretheim H, Halse AK, et al. Tracking impact of interstitial lung disease in systemic sclerosis in a complete nationwide cohort. Am J Respir Crit Care Med. 2019;200:1258–1266.

Hoffmann-Vold AM, Maher TM, Philpot EE, et al. The identification and management of interstitial lung disease in systemic sclerosis: evidence-based European consensus statements. The Lancet Rheumatology. 2020b;2:e71–e83.

Asano Y, Jinnin M, Kawaguchi Y, et al. Diagnostic criteria, severity classification and guidelines of systemic sclerosis: Guideline of SSc. J Dermatol. 2018;45, 633–691.

Chaudhuri N, Spencer L, Greaves M, et al. A Review of the Multidisciplinary Diagnosis of Interstitial Lung Diseases: A Retrospective Analysis in a Single UK Specialist Centre. J Clin Med. 2016;5(66):1–9. 

Cottin V, Brown KK. Interstitial lung disease associated with systemic sclerosis (SSc–ILD). Respir Res. 2019a;20(1):13.

Wong AW, Ryerson C, Guler S. Progression of fibrosing interstitial lung disease. Respir Res. 2020:29;21(1):32.

Brauner M, et al. Imagerie des pneumopathies infiltrantes diffuses. Press Med. 2010;39:73–84.

Maher TM, Molina-Molina M, Russell AM, et al. Unmet needs in the treatment of idiopathic pulmonary fibrosis-insights from patient chart review in five European countries. BMC Pulm Med. 2017;17(1):124.

Molina-Molina M, Aburto M, Acosta O, et al. Importance of early diagnosis and treatment in idiopathic pulmonary fibrosis. Exp Rev Resp Med. 2018;12(7):537–539.

Robalo-Cordeiro C, Campos P, Carvalho L, et al. Idiopathic pulmonary fibrosis in the era of antifibrotic therapy: Searching for new opportunities grounded in evidence. Rev Port Pneumol. 2017;23(5):287–293.

Kolb M, Bondue B, Pesci A, et al. Acute exacerbations of progressive-fibrosing interstitial lung diseases. Eur Respir Rev. 2018;27(150):pii:180071. 

Song JW, Hong S-B, Lim C-M, et al. Acute exacerbation of idiopathic pulmonary fibrosis: incidence, risk factors and outcome. Eur Respir J. 2011;37(2):356–363. 

Song JW, Lee HK, Lee CK, et al. Clinical course and outcome of rheumatoid arthritis-related usual interstitial pneumonia. Sarcoidosis Vasc Diffuse Lung Dis. 2013;30(2):103-112.

Tomiyama F, Watanabe R, Ishii T, et al. High Prevalence of Acute Exacerbation of Interstitial Lung Disease in Japanese Patients with Systemic Sclerosis. Tohoku J. Exp. Med. 2016;239, 297–305.

Okamoto M, Fujimoto K, Sadohara J, et al. A retrospective cohort study of outcome in systemic sclerosis-associated interstitial lung disease. Respiratory Investigation. 2016;54, 445–453. 
lifewithpulmonaryfibrosis.com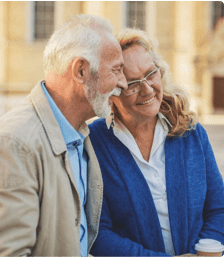 Helping patients and their loved ones to learn more about their condition.
morethanscleroderma.com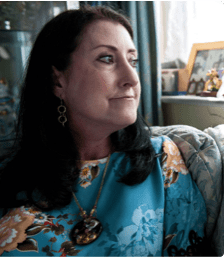 Providing information and resources to help support and guide patients.